By: Ashley Staab
"To handle yourself, use your head; to handle others, use your heart." – Eleanor Roosevelt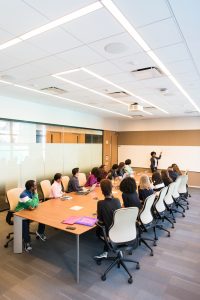 We have seen the number of calls for sensitivity or diversity training increase in the past year. While we are training more companies on topics like Workplace Harassment and Reasonable Suspicion, there is a growing need for diversity training. We've talked to organizations struggling with racial differences, gender transitions, and general lack of respect for others.
Employers are frustrated with the general lack of respect between co-workers. Comments include things like: "Their food smells weird. It must be because they're from another country," or "You know that type of person is just extra sensitive. They can't handle jokes."
In this day and age, we tend to think that people are more aware of how to be respectful towards others, but it is actually quite the opposite. With social media, we have all become speakers on our favorite soapbox. That soapbox might be as simple as which lucky lady will be given a rose next, but more commonly, it's used to express political or personal beliefs. These soapboxes should not be brought into the workplace. Encourage employees to speak kindly with others and to avoid hot topic issues like politics or religion.
As HR professionals, it is our job to work at maintaining a safe environment for all employees. We are ethically responsible for promoting and fostering fairness and justice for all employees. We need to teach our employees the importance of respecting others. We should be treating all employees, customers and clients with respect, compassion, and dignity. Sadly, these important facets of life are sometimes lacking in the workplace. We need to recreate an environment of inclusiveness and renew our commitment to diversity in our organizations.
"Allow people to be themselves. People want to be GREAT, great companies let them be GREAT." – Arte Nathan
At NAE, we can work with you to develop or update policies and procedures that foster fair, consistent, and equitable treatment for all employees. We can also do on-site trainings to teach your employees how to show respect towards their fellow co-workers.
Join Our Mailing List
Sign up here to receive monthly email updates on the latest NAE news, HR issues, special events, training dates and more!