Membership Rate Calculator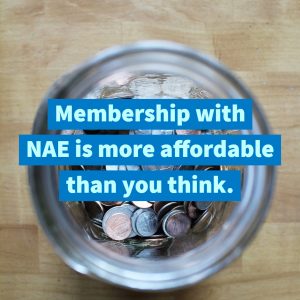 Are you considering membership with NAE?
Due to our 501(c)(6) status as a non-profit organization, we are able to service all your third-party HR needs at a fraction of the cost charged by for-profit companies.
Please use our rate calculator below to find out how much your first year will cost. We know your time is valuable, so just enter the number of your employees into the calculator below, and we'll tell you how much it will cost to access the many benefits of membership.
New members pay their first year upfront. Renewal memberships can be paid on a quarterly, semi-annual, or annual basis.
The calculator is valid for employers with 1 to 200 employees. For employers with more than 200 employees, give us a call and we'll get you a quote.
Click here to become an NAE Member
Membership Benefits
Unlimited access to our HR experts by phone and email to give you on-going and easily accessible support for your HR and employment-related questions and problems.
NAE's HR professionals will review your employee handbook and suggest revisions as needed to ensure it is compliant with federal and state law.
Members get access to NAE's Model Employee Handbook, which is up to date with current state and federal regulations. NAE's Model Employee Handbook is available for download from our Member Portal.
All NAE member organizations receive one complimentary all-in-one labor law poster.
All NAE member organizations can take advantage of our Poster Update Service for any all-in-one posters purchased from NAE. The Poster Update Service monitors changes and provides updates to the all-in-one poster when mandatory changes occur to keep everything compliant.
NAE makes its training programs available to members and non-members alike, but membership with NAE brings you these training programs at a discounted price.
NAE's training programs include structured training series, webinars, on-site training, special events, and panel discussions on a variety of relevant and timely topics for Nevada businesses. NAE also offers many free events as a benefit of membership with NAE.
As a benefit of membership, the Nevada Association of Employers offers a Quick Pulse Survey to its members on an annual basis. NAE's Quick Pulse Survey is a brief 5 question survey designed to measure employee satisfaction, productivity, and overall attitude about the company. The survey is 100% anonymous so your employees can provide honest feedback to you without worry.
Extended employee opinion surveys are also available.
Accurate data regarding employee pay and benefits is essential for recruiting and retaining quality employees. On an annual basis, NAE's survey specialists conduct a survey of employers throughout the state to get up-to-date market data on how employers compensate their employees (i.e. the base rate of pay for each position) and what benefits are provided (i.e. bonuses, retirement savings, health insurance, paid time off, etc.). Members and survey participants receive a discounted rate on the survey results.
The Nevada Association of Employers has partnered with the HR Certification Institute (HRCI) to offer NAE members up to 12 Recertification Credits per renewal cycle, a $50 discount off exam fees, and more.
The Nevada Association of Employers has partnered with a number of amazing firms across the state that will provide our members with credits, references, and other helpful tips and tricks that will help your organization save time and money.
Please call us if you have any questions. We're here to help.
Join Our Mailing List
Sign up here to receive monthly email updates on the latest NAE news, HR issues, special events, training dates and more!