TIS THE SEASON – HOLIDAY PARTY GUIDELINES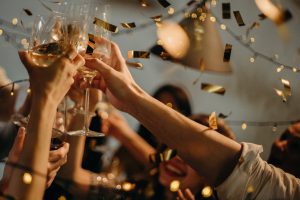 The holiday season is upon us once again.
With the holiday season comes the office holiday party — and the myriad of issues employers face. The office holiday party, which often combines the festive atmosphere of the season with the consumption of alcohol, is a potential minefield of employer liability. We would never advise that an employer cancel a holiday party for fear of liability. However, employers should be mindful and should protect themselves from employee or third-party claims arising from conduct during or after the event.
Before and during the office holiday party, employers should consider the following:
Ensure that your policies address employer-sponsored social functions. You may want to amend your harassment policies to specifically address employer-sponsored social events, including outlining conduct at a holiday party that is unacceptable.
Keep holiday customs appropriate to the workplace. You should avoid customs that have the potential to create romantic or sexually-charged situations (i.e. mistletoe). Additionally, you should remind employees that exchanging risqué or adult-themed gifts is not appropriate for the workplace.
Consider allowing guests to attend. While allowing for a "plus-one" increases the cost of the holiday party, employees may be less likely to engage is inappropriate/offensive behavior when accompanied by their significant other.
Confirm your venue and vendors are properly licensed. Injuries associated with the venue or food/beverage service may create liability for employers if the vendor is not properly licensed.
To prevent wage and hour issues, inform employees that attendance at the holiday party is voluntary. Activities that employees perceive as a requirement of work are more likely to be deemed time worked should a claim be filed. Holding the holiday party outside of business hours and refraining from discussing business during the event are also helpful to avoid this issue.
Avoid asking employees to perform any specific functions at the holiday party for the benefit of the employer to avoid any claims that employees are required to work "off the clock".
Don't let these suggestions take the fun out of the holiday season. Office holiday parties are a great morale boost for employees and a great way for everyone to celebrate the season. Have fun, but do so safely and in a way that limits liability for the company.
Join Our Mailing List
Sign up here to receive monthly email updates on the latest NAE news, HR issues, special events, training dates and more!