HOW TO MAKE THE MOST OF YOUR PARTNERSHIP WITH STAFFING AGENCIES
Successful Staffing: Hire the Right Person, Right Now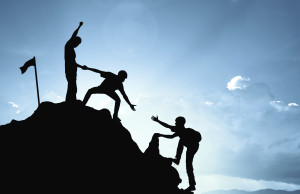 Many employers rely on outside staffing agencies and search firms for assistance in recruiting and hiring. These partnerships can be a valuable addition to your company's own recruitment efforts. They can offer alternatives, such as bringing in a temporary worker to cover for an employee on leave, or provide additional resources for a department stretched beyond its means.
While the success of the partnership relies heavily on the ability of the agency to deliver as promised, the quality of the partnership is dependent on you. The following are helpful tips for creating and maintaining quality partnerships with your outside staffing and/or recruiting agencies:
Recognize the Importance
Hiring the right people at the right time is important for any employer. Therefore, when enlisting the services of a staffing agency or search firm, it is important that you — the employer — actively participate in the partnership relationship to ensure your goals (i.e. hiring top talent) are met. You have an ability to positively (or negatively) impact the partnerships effectiveness. Being an active partner leads to improved hiring results.
Select Carefully
Currently, there are over 20,000 recruiting agencies operating in the United States, meaning that you as the employer have many, many choices. Consider the following to ensure you partner with the best organization for your needs: the experience of the assigned recruiters, where the recruiters are based (locally, nationally, internationally), expertise in filling positions with certain skill sets, the process used to screen candidates, and the terms of the partnership agreement.
Help Them Be Successful
Think of your staffing and recruiting agency partners as an extension of your own HR staff. Doing so will yield better results. Providing your partners with all the information they need to understand the position that needs to be filled (i.e. the required skills, organizational culture, leadership style of the manager, etc.) will ensure they find a candidate who is a good match for the position.
Communicate, Communicate, Communicate
Good communication is essential to any successful partnership. Poor communication with your staffing agency or search firm can result in a lost opportunity to hire a qualified candidate. It is proven that candidates who do not receive timely updates regarding a position are more likely to pursue other opportunities. Provide timely feedback to your recruiting partner so they can adjust their search and/or update the candidates they are considering to ensure your recruitment efforts are successful.
Motivate Them
Staffing agencies and search firms have many clients and even more positions for which they are recruiting so it is essential that you keep your recruiting partner engaged and motivated in filling the position. Some ways you can do that? Provide information up-front, respond to questions timely, have realistic expectations, and providing timely feedback.
Provide Constructive Feedback
Everyone wants to know what was successful and what can be improved upon — whether it is your employees or your partners. Highlight what went well so they know you appreciate their work. Additionally, it is acceptable to provide constructive criticism as it helps your partner improve the delivery of its services.
Employers spend a significant amount of time and energy recruiting, hiring, and onboarding employees. That is true whether they use internal resources or seek outside assistance. Fostering a positive relationship with your recruiting partner will make the hiring process easier and will help to ensure you are hiring the right person at the right time.
Join Our Mailing List
Sign up here to receive monthly email updates on the latest NAE news, HR issues, special events, training dates and more!