No business is exempt from a government audit, not even us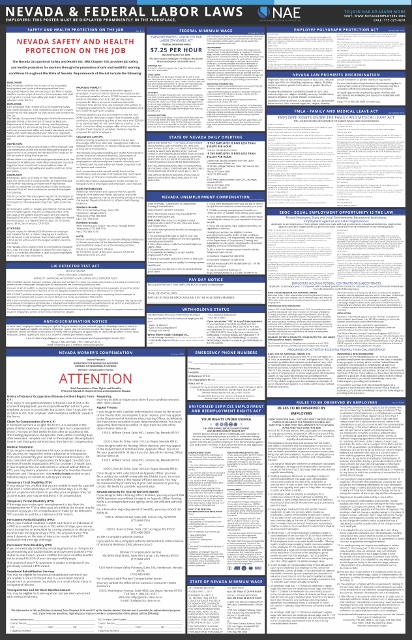 We recently received a letter from the Nevada Department of Employment, Training and Rehabilitation ("DETR") stating "Your business has been selected for an audit regarding Nevada Unemployment insurance taxes". The letter went on to list about a dozen items that an auditor needed to review on-site.
We had the DETR Auditor at our offices yesterday combing through our records. We are happy to report that we passed with flying colors.
The very last thing the Auditor asked to see was our employment law postings. As you know, all Nevada employers are required to have certain federal and state labor law notices posted in a conspicuous place at each workplace they maintain. We showed the Auditor our brand new NAE all-in-one poster. A comment was made about how complete the poster is and also how professional it looks. NAE members will receive one of these posters FREE with membership in 2018. Any required updates to the complimentary poster will be provided at no additional charge as long as NAE membership is maintained in good standing. Just another service we are excited to provide to our members.
Interested in NAE membership? Find out more about what we do and join NAE today!
Join Our Mailing List
Sign up here to receive monthly email updates on the latest NAE news, HR issues, special events, training dates and more!