HOW TO PREPARE SUPERVISORS TO BE SUCCESSFUL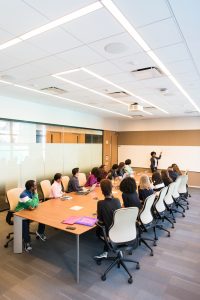 Do you have an employee who just transitioned into a supervisory role? Are you anticipating promoting an exceptional employee to a manager position within the next year? If so, you want to ensure he or she is equipped with the right tools to be successful—whether it be now or in the future.
Often we consult on issues that arise because a manager or supervisor wasn't prepared to handle a difficult, but manageable situation. This can be risky. Sometimes the supervisor makes a decision on how to proceed—without consulting HR or upper management—and does so in compliance with the law. Sometimes the manager doesn't consider all the issues and proceeds with what they believe is the correct course of action only to create liability for the company (and sometimes themselves).
How do you avoid this? Train your supervisors.
NAE offers supervisory skills training designed for current supervisors and those slated for supervisory positions in the future to ensure they have the right tools to be successful and make the right decisions. Our supervisory skills training series are among our most popular training offerings and for good reason—because they provide invaluable information from NAE's staff of professionals and skilled training partners on topics that are essential for supervisors and managers to understand, including workplace harassment, reasonable suspicion drug testing, discipline and discharge, and more.
Supervisory Skills: The Fundamentals (8 hours)
Supervisory Skills: The Fundamentals covers just that—the fundamentals. This series was designed to provide supervisors with essential information and tools needed to perform their duties in compliance with state and federal law. This series covers the topics that are common pitfalls for supervisors and managers.
Discipline & Discharge – Disciplining employees and making the decision to terminate are among the most difficult job duties supervisors and managers have. It is also where a lot can (and sometimes does) go wrong. "But employment in Nevada is at-will"—that is correct, but that doesn't mean there isn't potential for liability. This section of our training series provides guidance on disciplining employees, including the essential steps that should be taken in every disciplinary situation, and discusses best practices for documenting disciplinary actions, up to and including termination.
Workplace Harassment – If the last year has taught us anything, its that workplace harassment, particularly sexual harassment, is prevalent in the workplace. Often that is because harassment training is inadequate or isn't provided often enough and sometimes not at all. NAE recommends training all new supervisors on workplace harassment and re-training on a regular basis (either annually or biennially). This section of our training series provides an in-depth review of the legal and practical ramifications of harassment in the workplace, including examples of what not to do based on recent court decisions, as well as providing best practices for handling complaints of workplace harassment.
Wage & Hour – This topic is often overlooked because the assumption is that HR will take care of it. What types of activities does wage and hour include? Providing appropriate meal and rest periods, how tips are handled, when overtime (and daily overtime in Nevada) applies and to whom, etc. If supervisors do not know how to handle these situations properly, they can create liability for the company. This section of our training series provides an overview of the state (NRS 608) and federal (FLSA) law that apply to these wage and hour issues.
Employment Law – There are many laws that apply to the workplace. If supervisors are not aware what laws apply, they are at a higher risk of doing something that could violate one (or many) of those laws—even inadvertently—and create the potential for liability. This section of our training series covers the major state and federal employment laws that apply to employment, including the Americans with Disabilities Act (ADA), Age Discrimination in Employment Act (ADEA), and Family and Medical Leave Act (FMLA), and provides examples of what types of actions may result in a regulatory complaint or worse—a lawsuit.
Reasonable Suspicion – As more and more states legalize marijuana for medical and/or recreational use, reasonable suspicion drug testing is becoming increasingly important to ensuring a safe workplace. Being able to recognize the signs that a person is under the influence of alcohol and/or drugs and taking appropriate steps to address it is key and not something that any supervisor should be doing without proper training. This section of our training series covers the signs and symptoms of drug use and alcohol abuse, and best practices for reasonable suspicion testing. This section also addresses Nevada's medical and recreational marijuana laws and how employers should proceed.
Performance Management – Employee performance is the most important concern of any supervisor or manager. If employees aren't performing their job duties as expected and their managers are not taking appropriate corrective action, it reflects badly on the manager. If the manager goes about addressing the issue in a way that opens up the company to liability, that isn't good either. Good performance management is also reflected in employee retention. This section of our training series provides practical guidance on conducting employee performance evaluations, including effectively communicating expectations and providing constructive feedback.
NAE offers this series multiple times a year—at least once per quarter, but often more frequently based on popular demand. Interested in registering yourself or another member of your team for our next training series? Visit our Training and Events Calendar for information on our next series.
Join Our Mailing List
Sign up here to receive monthly email updates on the latest NAE news, HR issues, special events, training dates and more!